A BALTIMORE ORigiNAL
GOURMET QUICKFIRE PIZZA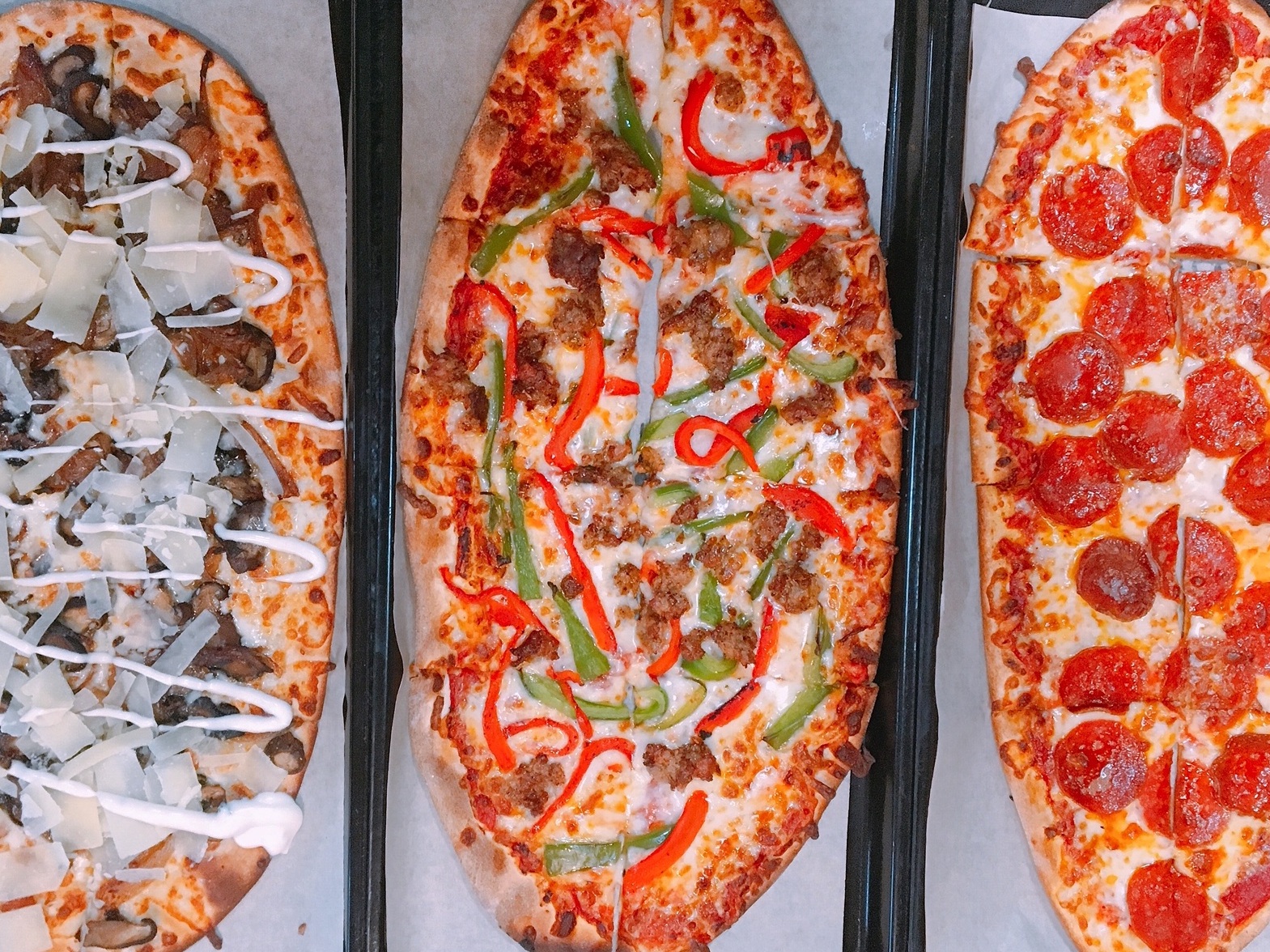 Hand-Stretched | Thin Fresh Dough | Quick Fired
$

10.50
BONES
House red sauce, cheese blend, fresh mozz, fresh basil
$

12
DOUBLE DOUBLE
House red sauce, double cheese blend, double pepperoni
$

12.50
THE TRUST
House red sauce, cheese blend, sweet & spicy crumbled Italian sausage, caramelized shallots, green peppers, roasted red peppers
$

11.50
BSQ B-L-T
BBQ-bacon tomato jam, cheese blend, skillet bacon bits, sliced cherry tomatoes, baby kale, bacon ranch drizzle
$

12.50
DIRTY BIRD
White sauce, cheese blend, herbed antibiotic free chicken, blue cheese crumble, buffalo drizzle, celery ribbons
$

12.50
MOBTOWN
Garlic oil, fresh mozzarella, crumbled feta, artichokes, kalamata olives, caramelized shallots, roasted red peppers, toasted pine nuts, pesto drizzle
$

12.50
FUNCLE PIE
Garlic oil, cheese blend, roasted wild mushrooms, caramelized shallots, truffled white sauce, shaved parmesan
$

11.50
THE MARKET
Roasted red pepper & carrot puree, cheese blend, roasted vegetables, shaved parmesan, chimichurri* drizzle
(* parsley, minced garlic, olive oil, oregano, red pepper flakes and red wine vinegar)
$

8
TRUSTY BUFFALO (aka Chefs Wings)
Classic Buffalo + Garlic + Fine Grated Parmesan
TOSS WITH:
Old Bay, Original S&P or Homemade BBQ Rub...think BBQ potato chips!
ADD SAUCE:
Curry Ketchup, Roasted Garlic Aioli, Bacon Jam Ranch, Blue Cheese Tiger Sauce (horseradish, blue cheese, mayo).
$

7
HOUSE SALAD
Romaine and mixed greens tossed with house dressing, shaved shallots, toasted pine nuts, fresh tomato, shaved parmesan, flat bread crouton.
$

7
CAESAR
Chopped Romaine and baby kale tossed in our creamy dressing with shaved romano cheese, flat bread crouton, roasted red peppers.
$

9
MED CHICKEN SALAD
Herbed, antibiotic free, chicken tossed with mixed greens, cucumbers, shallots, toasted capers, feta and shaved parmesan cheeses and balsamic-oregano vinaigrette.
$

7
CHOPHOUSE
Romaine tossed with blue cheese dressing and topped with shaved shallots, flat bread croutons, cucumbers, crumbled blue cheese and skillet bacon bits.
$

2
ADD ANTIBIOTIC FREE CHICKEN TO ANY SALAD FOR
ZEKES NITRO COLD BREW ON TAP!
PT Shakeratoo!
Nitro Cold Brew, Sweetened Condensed Milk, Simple syrup, shaken & served over ice
Chocolate Nitro
Nitro Cold Brew, Chocolate Milk, shaken & served over ice
Dr. Browns Black Cherry Soda
Spindrift Lemon Sparkling Water
Spindrift Cucumber Sparkling Water
BREKKIE
House red sauce, cheese blend, skillet bacon bits, scrambled eggs, shredded potatoes
EL RANCHERO
Spicy ranchero sauce, cheese blend, peppers & onions, fried eggs, green chilies